How was everybodies Mothers Day? I hope all of you had a wonderful day, were pampered and spoilt.
I was up early on Mothers Day like I have been for the last few years. Every year we go in the Mothers Day Classic walk for breast cancer research. The event is run (and walked) all around Australia. There is a lot of information about the even in my previous blog post.
So up at 5.30am to get ready for the walk. I had to pin all of our numbers to our tops.
We set off at about 6.45 where we were being taken by bus over to the event. We go every year in a large group and we all meet up, walk or run, then come back to a hotel near by and have breakfast. We arrived at the walk at about 7.30am and watched the runners take off first. They had somebody there getting the crowd to warm up.
It is such a fabulous atmosphere. There are families, children in prams, people in wheelchairs, people recovering from breast cancer, people walking for a family member who has lost their life to breast cancer. There are people dressed in funny costumes, the is lots and lots of pink. Pink as far as the eye can see.
I do have to say that there is one thing and one thing only that I can not stand about this event and this is what they are.....
Do they need any explanation? I don't like public toilets at the best of times, but one thing that really really makes me grosse is port-a-loos. I was that desperate to go to the toilet at one stage but I just couldn't go, I just couldn't go into a port-a-loo. So I held on until we got back to the hotel and ran for my life, LOL (only just made it too).
So we participated in the walk, not the run. It was just fantastic. We headed off at about 8.30am with thousands of other people.
It was just such a fantastic atmosphere but at the same time very emotional. There were times when I would find myself tearing up when reading a tribute that somebody had pinned to their back and I would be walking behind reading. There was also a number of tribute walls which also were very moving.
The whole walk was just so fun. Walking around seeing so many different costumes, from fairies, strange pink outfits to a kangaroo.
The person in that suit must have been so hot!
Another spectacular thing was walking alongside the beach with the sun rising above. Just magical and a perfect way to spend Mothers Day with my family and friends.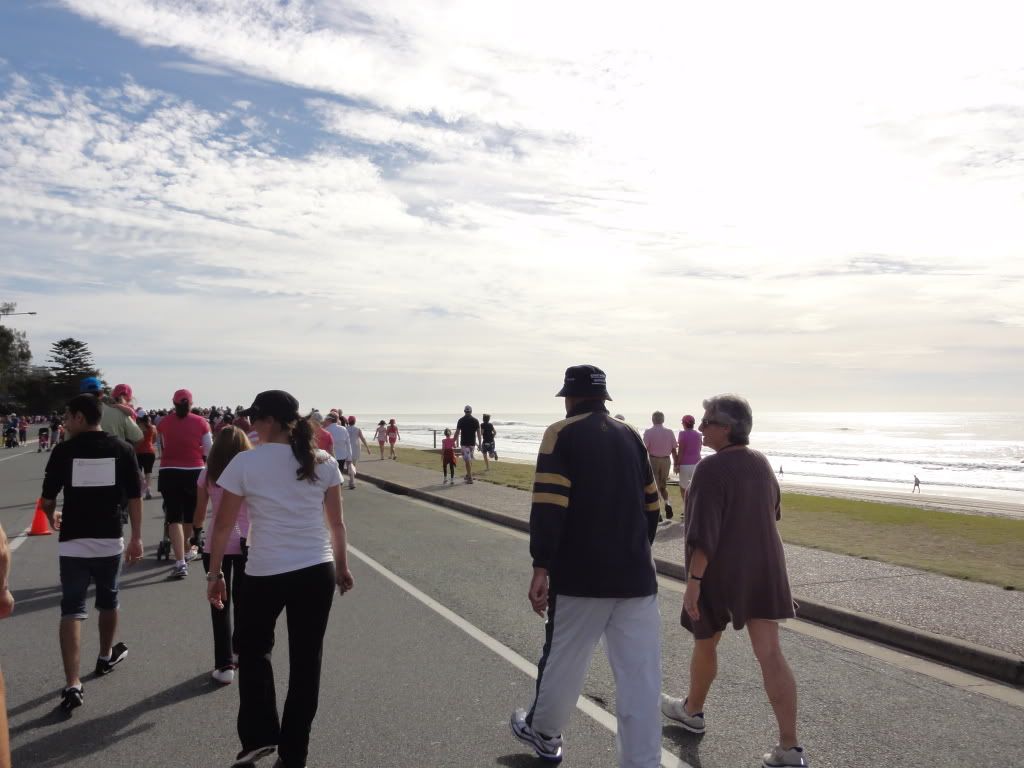 Sun rising as we walk.
The Beach we walked alongside.
We crossed the finish line and we all got a goody bag, a medal and a bottle of water. The event was very well organised, there were food stalls, jumping castles for the kids, face painters, a band and entertainers in the massive park right on the beach.
The band played.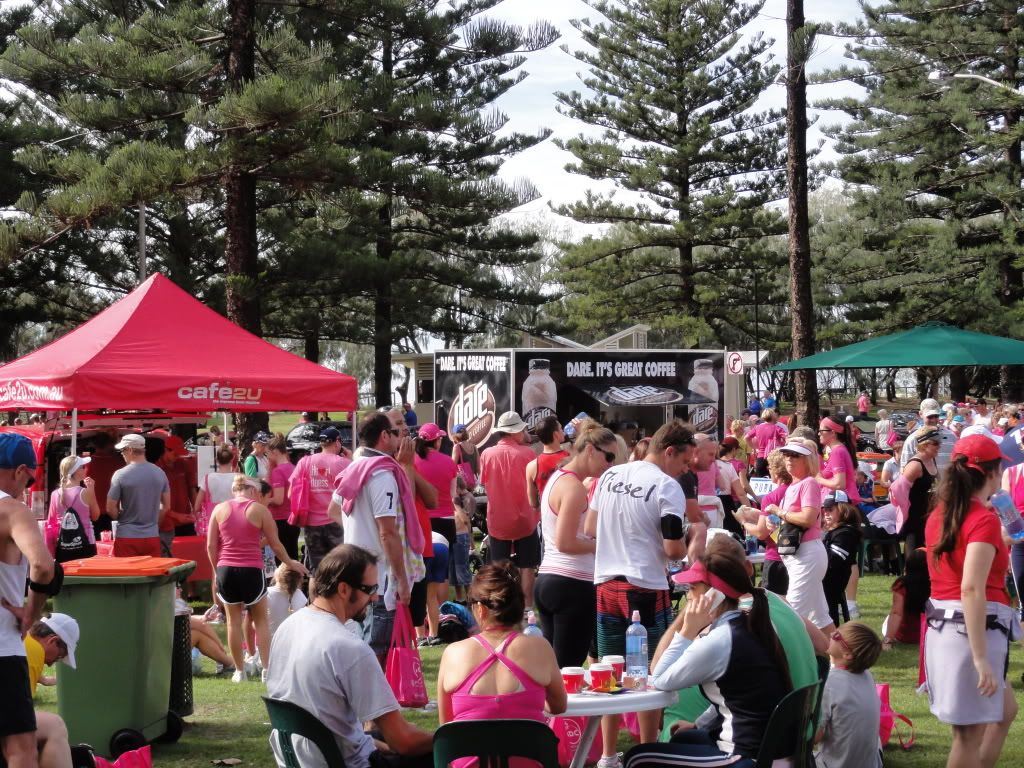 After the race, just enjoying the morning.
All in all it was a really lovely morning, I really enjoyed spending the morning at this very special event with my Mum and my family and many of my wonderful friends.
I can't wait until the event next year!
Thanks for sharing my journey.....