I haven't really had anything new to add this week.
My Weight Watchers "At Home" kit has not arrived yet which I am really disappointed about. I was so motivated almost two weeks ago and ready to start and it will be two weeks on Monday since I ordered the kit so it has taken a while to arrive. It's a bit annoying as when somebody orders they are obviously very motivated to get going, so I don't see how it can take two weeks (that's provided that it arrives on Monday, so it may be longer) to get something out to a customer. Nothing I can do about it though, guess I just have to wait (or weight, LOL).
I have been good though, sticking to the right foods but have not been counting points. Not knowing the new system I am not exactly sure what is right, so will have to wait until the kit arrives to read up about the new ProPoints program. A friend actually asked me this morning if I had lost weight. That was exciting, because just because I haven't been following WW just yet, I have been watching what I eat.
I did however, have my exercise bike arrive yesterday. I have not used it yet as it was just so hot today and my airconditioning is not working. They are coming to fix the aircon on Tuesday, they have been waiting on parts, so it will be all go once that is fixed. It is just too hot here in Australia at the moment, especially inside, its like an oven.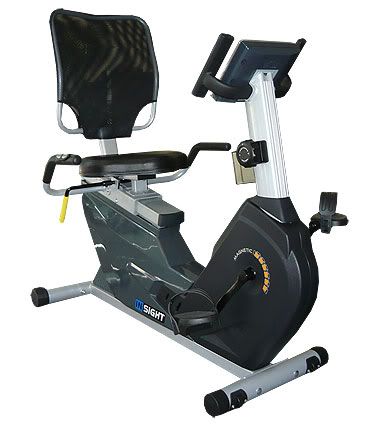 My New Recumbent Bike
Today I did go for a big walk though. I have been wearing my pedometer every day to make sure that I am doing enough Weight Watchers steps each day and I have exceeded that each day through walking.
Hopefully my kit will have arrived Monday and I can get going with this Weight Watchers program.
Thanks for sharing my journey....