Well I popped into a weight watchers meeting the other night to pick up a few things. I could have bought them online and had them delivered along with my "At Home" kit, but I get a discount by going to a meeting being a lifetime member. So off to the meeting I went.
I got a few cookbooks, I do already have some Weight Watchers cookbooks, but with the new plan I decided to get some of the new books. My favourite purchase though was the pedometer and today I set it up and started using it.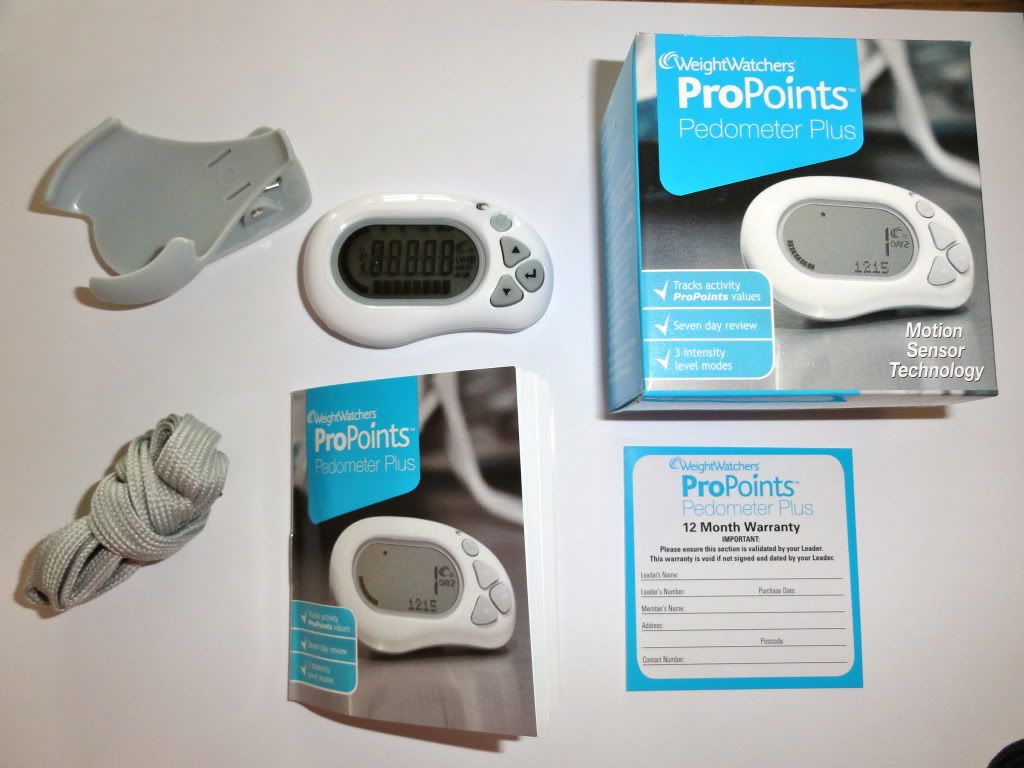 Here is what comes in the pedometer box. The pedometer obviously, an instruction booklet, a warranty card, a cord to hang the pedometer around your neck and a clip that you slide the pedometer into to attach to your belt.
When you start up the pedometer, you enter the time, your height, your weight and whether you want kg or pounds. It automatically calculates your stride rate depending on your height but you can add that manually if you prefer. I let it do it automatically and it seem to be very accurate, so I stuck with the auto stride rate. I have been wearing it all day and have done 6152 steps so far today. Being that it's night time and I am now on the couch writing my blog, I will probably not be doing a great many more steps today. I did go for a 40 minute walk today so I did think that I would do more steps than that, I'm surprised that I did so few.
I still have not received my "At Home" kit, but as I had planned on starting this last Monday, I have been sticking to the program slightly, well more the old program until my kit arrives and I can officially start. I have taken my before and after shots already. I add those tomorrow, but I will do my measurements as well as my official weight in for my official start day.
Thanks for sharing my journey...