I think this has to be the hardest time of the year to be trying to lose weight!
I am not sure quite how I am going to handle this festive season, food wise. In Australia we celebrate Christmas on Christmas Day. I know a lot of countries celebrate on Christmas Eve but we seem to have our big main Christmas meal for lunch on Christmas Day. Our traditional Christmas meal is a big hot roast turkey, roast vegetables and gravy with Christmas pudding and hot custard for dessert. My family still has this big hot lunch. But many in Australia have moved to a delicious big seafood lunch, lots of prawns (shrimp), lobster, bugs, etc. For those with multiple families, in laws, in laws and parents who have split up and do not mix together, Christmas Day can be spent going from meal to meal.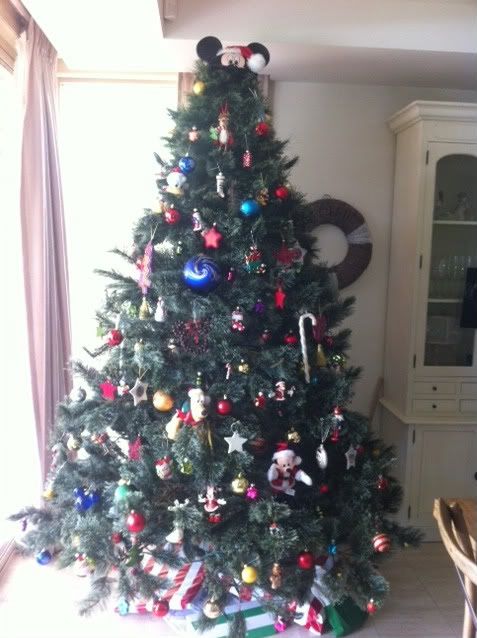 Our Christmas Tree
I remember a few years, my husband and I would spend the entire day eating and driving. His family live about an hour away, mine up the road, none of our parents are still married to each other, so we have 4 meals to do on that day! It was just crazy. We would always have the morning with his family but that meant getting up very early Christmas morning to make the first breakfast over an hours drive away. Once our son was born it was just too much. He would get up in the morning and want to spend the morning opening his presents from Santa, not racing out the door at 6am, long drive, eat, eat again, long drive, eat lunch, drive, dinner, drive home, fall asleep in the car. It was CRAZY!.
How did I put an end to this craziness? We started going away! I do have to admit, we went away with my family, but for the next several years, we went overseas for a white Christmas. It was fantastic, so stress free. I would pack all of Santa''s gifts in the suitcase, our son would hang his Santa sack up outside on the balcony of our hotel room (there was a hook out there, like it was put there for my son's Santa sack). I would pack Christmas trees (just, small, cheap, already decorated ones from the $2 shop) for all of my family. We would have about 4 or 5 hotel rooms, usually on the same floor. We would all put our cheap little trees up, which were so cheap that we could leave them behind and it gave me more room to bring shopping home. We had a small gift limit, so didn't have to drag big gifts home and it was very civilised. We would wake up Christmas morning, my son would find that Santa had been, he would open and play with his presents. We would then all meet up in one of the rooms and have a big present opening session, then would head down to breakfast at the hotel. It was lovely.
We haven't done that in a few years. Now my husband's family seem to do a big Christmas celebration in the weeks leading up to Christmas as the family is so large that many are often going away so it's more convenient to do a celebration and get together before Christmas. Then on Christmas Day we go to lunch at my mothers house and that's it. It is much more relaxing and we have time to actually enjoy the day.
But the whole season, catching up with friends. The whole week from Christmas to New Year seems to consist of eating, drinking, eating, eating and eating. Christmas Day we will be having the big hot turkey lunch, then it's off to dinner at a friends house, hopefully no food required for dinner after the massive lunch.
I hope everybody has a wonderful Christmas filled with lots of laughs, great company and yummy food!