I just bought the best cookbook.
It's the 4 Ingredients Christmas cookbook. It has so many yummy looking and easy to make dishes, that can actually be cooked all year round and every recipe has just 4 ingredients!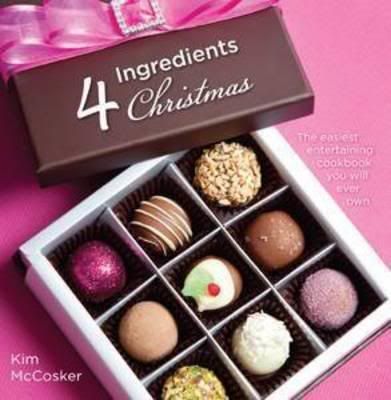 Unlike the other 4 ingredients books, this one has pictures and it's a larger size. There are so many yummy things in it.
Some of the recipes are...
Bacon & Avocado Bruschetta
Breakfast Trifle
Eggs with Smoked Salmon Fingers
Grilled Fruit and Ricotta Stack
Skewer Duo
Crispy Salmon Salad
Mango, Avocado and Prawn Salad
Apple Cambert & Potato Terrine (looks divine)
Maple & Pepper Glazed Turkey
Salmon Terrine
Wild Mushroom Beef Wellington
Vegetable Dishes
and many more nibbles, mains, side dishes.
Lots of Christmas Desserts, like Trifle, Plum Pudding, Christmas Cake, White Christmas Cheesecake and more
Lots of Gift edibles, like Lime & Macadamia Fudge, Reindeer Bark and many more
There are also a number of cocktails and other Christmas drinks.