Today I joined the gym. Yes my days of indecision, will I.... won't I. Well that is the sort of unmotivated attitude that got me in this overweight mess in the first place.
See I don't eat really badly. Yes I love dark chocolate. But I don't drink soft drink (soda, pop), I don't have a fridge/freezer filled with ice cream, pantry filled with chips (crisps). I don't eat lots of fast food or fried food. It's my portion sizes and my complete lack of movement! And possibly not eating enough for so many years that my metabolism is totally dormant. In my house we always eat whole grain bread, and not wheat bread, organic ancient grain bread filled with whole grains and seeds. We eat organic brown rice, we eat organic spelt pasta (and brown, not white), lots of fresh vegies and fruit.
Eg: for breakfast this morning I had a banana, a boiled egg, a slice of ancient grain toast and (yes some butter, but come on, I can have some luxuries, LOL). For lunch I had a rice cake with half an avocado and a slice of lite jarlsberg cheese and I have had a row of dark organic chocolate. That's it all day. I now have turkey breast in the oven for dinner which we will have with steamed vegetables.
So... my biggest problem is my lack of movement (and my diet to a degree, it's not all just exercise). What are we supposed to do each day? 10,000 steps? I have probably done about 2000 today. Sitting at the computer working and now writing my blog, LOL.
Today I marched into Fenix Fitness gym near where I live and joined the gym. I get three personal training sessions with that to start and can purchase more. But what I did sign up for along with my membership was the...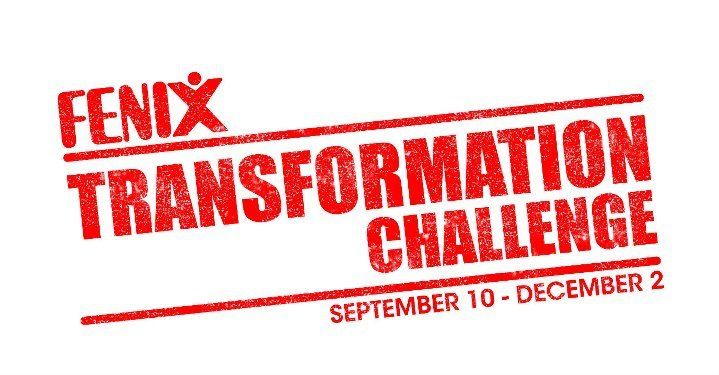 The challenge is for 12 weeks. We get assigned a trainer and there are group training sessions with others participating in the challenge. We have to have our before photos done and measurements before Saturday when the challenge starts. We have to submit a little essay about why we have participated in the challenge and what we would like to get out of it. I don't know all of the details completely yet as I have not met with my trainer, but I believe we also get a food diary of some description.
So I will be posting regularly about my progress. I am hoping that over the 12 weeks that I will develop new habits and rid myself of some of my old habits that have me in the place that I am currently in. You can also win $5000 if you win the challenge, so yes, I will be aiming for that, but my main goal is to form new habits, the habit of regular exercise mainly. To get my blood pressure down and ultimately get off my blood pressure medication. Feel more energetic and become a much healthier happier me!
So wish me luck. (well I won't need luck as it isn't about luck, LOL)